Happy Mothers Day week!
A little while ago we shared a special project that we were working on this past winter while we were living in Mazatlan, Mexico. I wrote here about the passing of Darryl's Aunt Debi and our decision to dedicate one of our projects in her name.
Debi meant a lot to her whole family including her loving husband Dave, along with her children Jennifer and Craig. Debi went to be with her Lord and Saviour on January 25, 2017 after a battle with cancer. We knew that this special project was the perfect way to honour her because of the love of her children, her life, and the love she had for God.
One the ways that we felt God nudging us was to spend some time in Mazatlan was to be involved in the process and be part of a team of dedicated people to build up the
Vineyard Child Sponsorship Program
. The Vineyard has an amazing program that meets the body, mind, and spirit of each and every child that is in the program.
Less than three years ago, God provided vision that there was a missed opportunity within the front of the Vineyard Church lobby. The lobby is a welcoming place for tourists (they offer many tourist centred services such as free phone calls, internet, etc), and at that time there was not a strong communication of the needs of the children in Mazatlan's surrounding colonies, or the Vineyard's response to that need with their 
Child Sponsorship Program
.  With hundreds of tourists walking through the doors weekly it was evident that there was a desperate need to grow the awareness for this program.
This is the child sponsorship wall three years ago.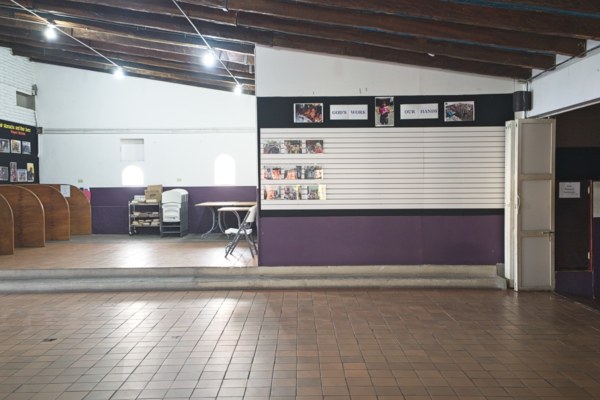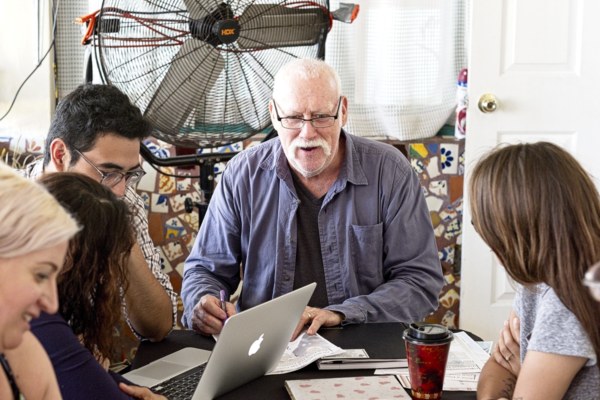 The wording for the sponsorship board was a complete team effort.  Pastor Fred and his wife Oralia gave insight, Oralia's son Alex helped with translation, and key volunteers  Roland and Mallorie have spent countless hours on the administration side of the program.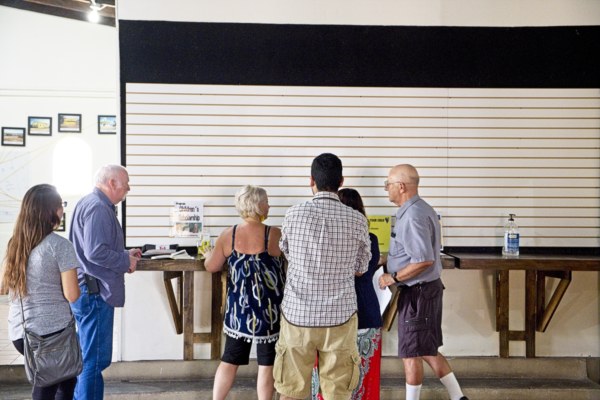 The last few days we were in Mazatlan, we were able to take some quick photos of the panels that were designed and printed. This has given the Vineyard an opportunity to showcase the programs, an area was designated for the brochures that were designed for the Child Sponsorship Program. A computer was added by Michael (Woo Family Ministries) to allow online Child Sponsorships to happen and also to provide an opportunity for general giving to Vineyard Ministries on a daily basis and on Sunday mornings.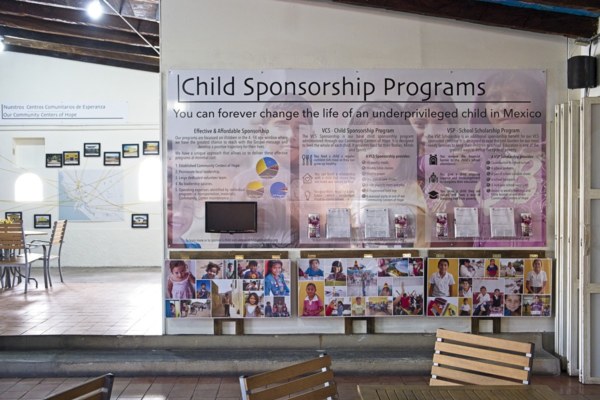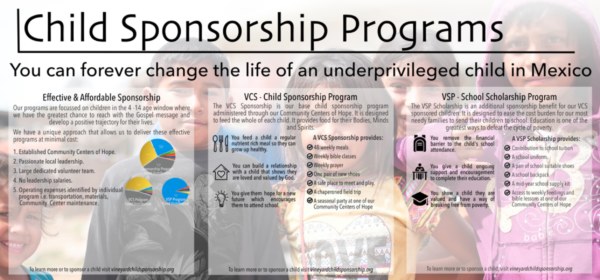 The main goals for the Child Sponsorship wall:
To share the Child Sponsorship program in a very clear way.
It needed to be communicated easily and in large font as most of the viewers are 55+ in age.
To honour and provide dignitty  to the children portrayed on the wall.
To be able to share why the program is so special because of how it's structured financially.
To gain visual presence particularly during the high tourist season.
Access to brochures for the program so the program can be easily shared.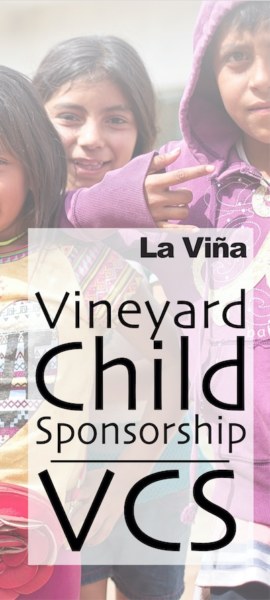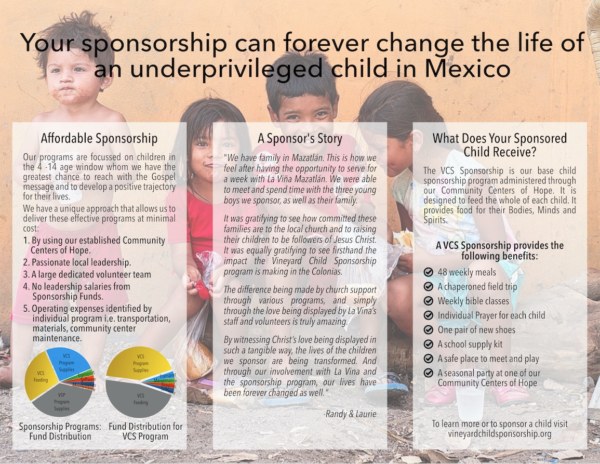 We want to thank the committed people who have given generously for this project to happen this past winter and our time in Mazatlan.  A big thank you to Dave (Darryl's uncle) and John and Lorraine Bueckert (Darryl's parents) for their generous donations which championed this portion of the project.
Debi loved her children and the children of our extended family so we cannot think of a greater tribute to Debi than to have her memory forever connected to an outreach that will reach thousands of children here in Mexico.
With Love,
Darryl and Jodi