As we start to look back in the ways that God has been slowly guiding us it's all so clear now, but it felt really foggy a few years ago. Back through 2013-2014 we were at a cross roads with our businesses. Our life was good, work was very successful but it seemed like there was something more out there that we were missing, waiting for, but really unsure of what that was? We know that God has always been guiding us like an unveiling of fog patches along the way. We know God heard our cries for direction and our longing to hear from him clearly. We know that now.
During the Christmas season of 2013 our good friend was going through a "listening to God" workshop and she began to write down on a note what she felt the Lord was saying to us and these cards (Gods words) have been a blessing for the last three years. Every time I read the notes, I can feel God speaking to me though her writings. Thank you friend. Thank you God.  
This is Gods letter to me, and I'll be sure to share Darryls another day.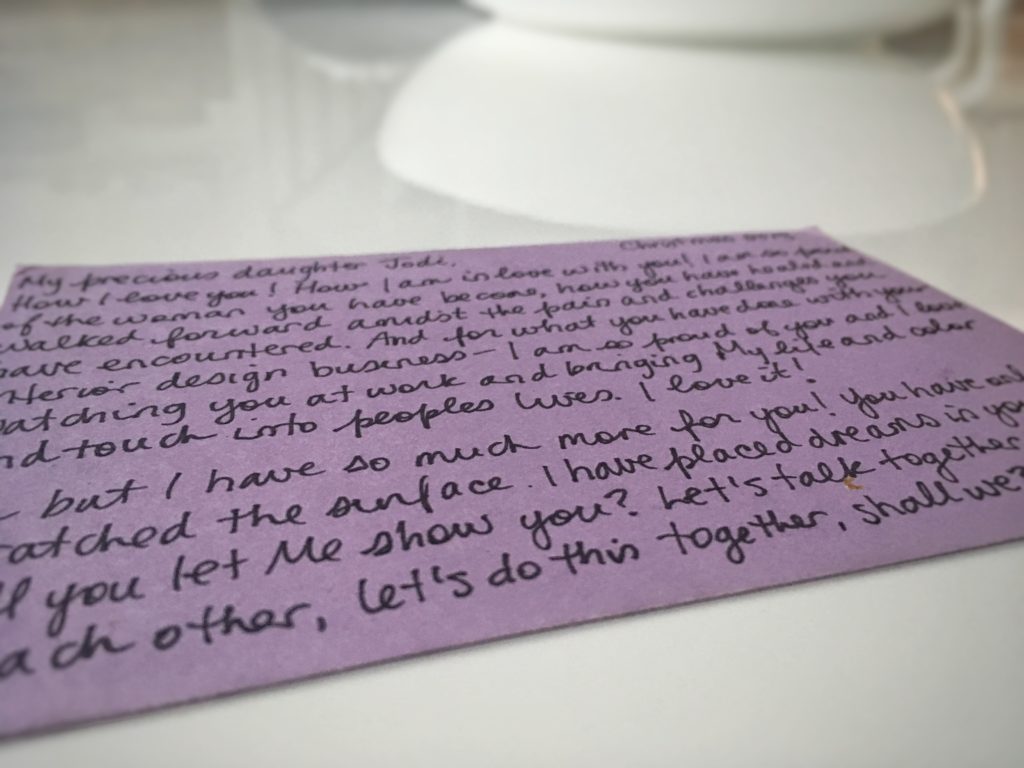 My Precious daughter Jodi,

How I love you, How I am in love with you. I am so proud of the woman you have become, how you have healed and walked forward amidst the pain and challenges you have encountered. And for what you have done with your interior design business – I am so proud of you and I love watching you at work and bringing my life and colour and touch into people's lives. I love it!

Oh, but I have so much more for you! You have only scratched the surface. I have placed dreams in your heart. Will you let me show you? Let's talk together, lets listen to each other, let's do this together, shall we? Oh that is what I dream about, to be in deeper relationship with you, to show you greater depths of my heart, to partner together to bring me to your world. Will you come – Join me on this grand adventure? Come Beloved, do not hold back. I love you, perfect love casts out all fear. I am with you, I am for you, come beloved, let's do this together. Walk forward into me, and I will do imaginable more than you could ever ask or imagine.

I love you and I am with you precious daughter

Your Papa

By partnering with us, you are helping to build a committed community of people who want to use their lives and skills to make a lasting difference on world poverty by supporting effective yet under-resourced ministries. We would be honoured by your partnership and financial support with an ongoing monthly commitment or a one-time gift. While the need is great, even small monthly donations will all add up so we can make a difference together.

Please go to the support section and donate as God leads you, or feel free to email us at info@help-project.org if you have any questions. Please be praying what role you could take in our community, and don't forget that we are just an email, coffee or FaceTime meeting away if you want to know more about what God is calling us to.

Never Doubt Gods leading in your life and  you never know where he could lead you?
Thanks for reading,
Jodi